How can I help?
Heilmann Dog Park is free to use by all and relies on the work of volunteers to maintain the park. The park operating costs are funded soley by donations and grants by people just like you. We rely on our Park Angels for the day to day upkeep of the park.
The Park Angels donate their time by picking one day a month to make the park a pleasant and safe place for all the park's users, canine and human.
Call John Laycak at 805.438.3010 to select your day.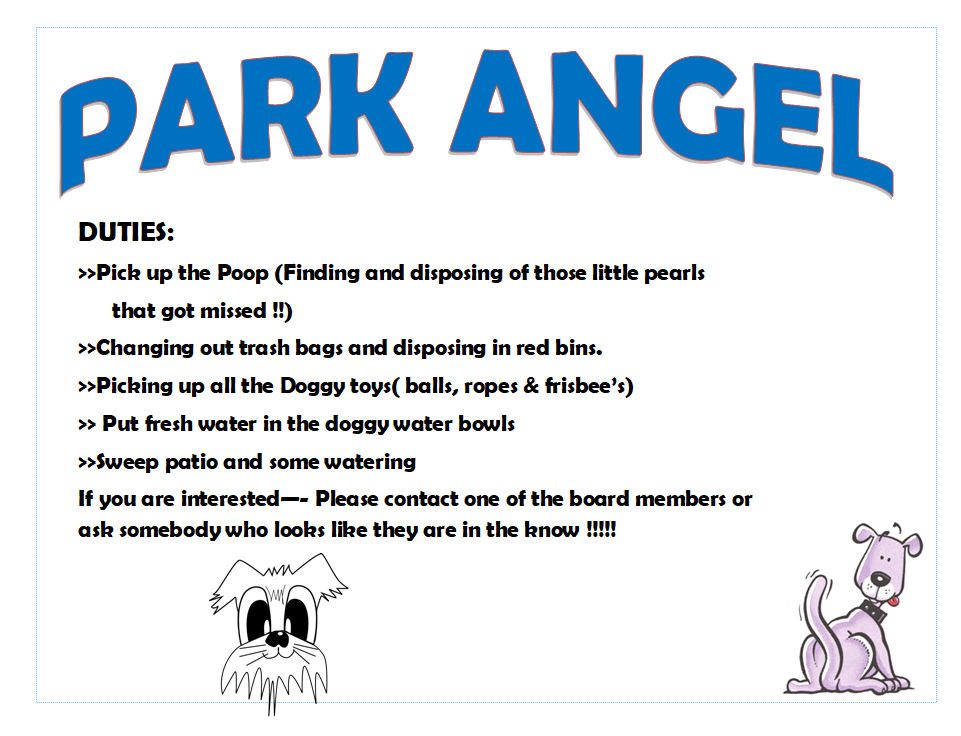 Work parties are scheduled once or twice a year to bigger maintenance items for the park like maintaining the benches or building something like the shade structure or small dog park addition. Your help is needed for our success. To be notified when our work parties are scheduled please join our mailing list from the link to the left.
Fund raising events and donations pay for all of the operating costs and improvements to the park. We have two annual events, Dogtoberfest in October each year and Santa Paws in December. You can see pictures of past events here.
Volunteers are critical to the success of Dogtoberfest as it is our biggest event. Dogtoberfest features weiner dog races, a costume contest, a raffle, and a BBQ. A couple of hours of your time can go a long way towards making our biggest event a success.
Volunteering is fun! You get a chance to meet new people that share your love of dogs and supporting your community. Don't miss this opportunity to help support the North County's only free off-leash dog park.